Paul's Euro2000 review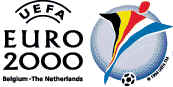 This is my personal review of Euro2000 with match reports and my personal opinions of the teams and players involved. Kick-off times shown as CET.
Matches / Groups / Later Stages / Final / Top Scorers
Belgium 2-1 Sweden
June-10, 20:45, Brussels, Group B
A suprisingly good first match. A silly mistake by Nilsson but Goor opened the tournament with a very good finish. I though that the teams looked quite even and it was a good match. A class finish by Mpenza, looked like a SWOS goal. And then there was the funny mistake my the Belgian goalie, Mjallby only just scored. So far I think that Belgium will qualify for round 2.
Turkey 1-2 Italy
June-11, 14:30, Arnhem, Group B
Turkey look like an OK side, I expected Italy to win though. The overhead kick from Conte was very good and goal of the tournament so far. Then the header by Okan, a nice goal to score for a small player against Italy. I thought it was very harsh for the ref to give a penalty, Inzaghi was looking for it and he tumbled easily in the box.
France 3-0 Denmark
June-11, 18:00, Bruges, Group D
France look like the best team in the tournament, I think they can win it. Denmark had no chance against the genius of Zidane and the powerful strike force of Henry. Henry's goal for 2-0 was the goal of the tournament so far, an amazing goal after his blinding run up the wing and into the box, even Schmeichal could do nothing. And it was good to see Arsenal's Vieira setting up the 3rd goal.
Netherlands 1-0 Czech Republic
June-11, 20:45, Amsterdam, Group D
A fantastic atmosphere in the stadium for the home team. The Dutch showed signs that they could play, but never played very well. It is disappionting to see that Dennis Bergkamp has got himself fit for Holland when he can't be bothered for Arsenal ):-|
It was a physical game and I saw Stam getting stitches and Nedved strapped up. I saw bits of the first half and all the second and Czech Republic definately played like the better side. They were very unlucky and deserved to be ahead, Poborsky should have put them in the lead. Koller played very well, but without doubt, Pavel Nedved was man of the match.
Holland didn't really deserve a draw and I was shocked when the referee gave a penalty (bit like playing Man U in SWOS). I thought De Boer was trying a bicycle kick and then gave up half-way through, but the replay shows an obvious shirt tug, he did go down easy though. It was a quality penalty, but such a shame for Czech Rep. as they should have won!
Germany 1-1 Romania
June-12, 18:00, Liege, Group A
Er.. not a convincing display by either side. Hagi played better than Matthaus though. And the score was about right, a boring second half after two good goals in the first.
Portugal 3-2 England
June-12, 20:45, Eindhoven, Group A
What a fantastic start. I predicted a 2-2 draw with Scholes to score first. Beckham showed where his quality lies by putting in 2 perfect crosses for Scholes and then Maccas (nice play by Owen too). But from then we started to lose the match. There was not enough closing down in midfield and from the side of the pitch. In my SWOS update patch I have put Gareth Barry in the England team instead of Phillip Neville, 'cos Phil Neville is rather crap (my left foot is better than his right - and I'm both footed but more right footed!).
So we just watched them pass the ball with complete expertise, until Figo ran through unchallenged to fire into the top corner with a deflection off Adams' ankle, It was a great goal. And then more and more standing back, not enough pressing, Costa (class player) crosses and then flat-footed Campbell can't stop the sharp header from Pinto. Damn, there's my scoreline and only 30 minutes gone!
Anything could have happened in the same half, but England refused to change their futile tactics and the free-passing and free-moving Portuguse stole another. Adams was left in no-man's land by the slack covering from Gary Neville and Seaman seemed to bottle it and duck away from the shot. The scorer Nuno Gomez actually got 3 goals in the game but his first two were off-side.
The best players on the pitch were the two number 7's and Portugal's Rui Costa. Figo is probably the best player on the planet right now. Beckham played an outstanding match, the best I've ever seen him play for England. I think that he showed real class and effort as he firstly crossed for two superb goals and then continued to play well. He did cut out a lot of passes as well, giving very little away. There was confusion at times as he didn't track back properly at times, but I think I would blame that on the Neville brothers. Paul Ince, one of my England heros tried his best, but seemed stretched in the midfield as the ball was just passed around him.
England have to do better against Germany, and I think that something has to be done about the dodgy defense. Attacking chances should be a plenty against Germany, let's hope Shearer flicks the ball in the right direction this time.
Spain 0-1 Norway
June-13, 18:00, Rotterdam, Group C
Norway seemed to frustrate Spain, who didn't play like they could. Iversen's goal was a bit jammy, but what on earth was the keeper doing. Doesn't Molina play for Athletico Madrid, they were relegated this season. Surely they should play Casillas from Real, the European champions?
Yugoslavia 3-3 Slovenia
June-13, 20:45, Charloi, Group C
What an incredible match. There was a great atmosphere in the 30,000 but not full stadium. Yugoslavia didn't play in the first half and Zahovic scored a classic header. Then he crossed for 2-0 in the second half, and then after a stupid Mihailovic pass Zahovic put away another neat finish. Dream land for Slovenia but they truly deserved it! Then Mihailovic gets a red card - unbelievable.
So Slovenia start to cruise, and Yugoslavia get a goal. And all of a sudden Yugoslavia start to turn on the style, and Milosovic pulls them back to 2-3. Little did I expect for them to get another goal and make it 3-3. I thought that in the last 10 mins any team could have won, and Slovenia almost did when a header was cleared from the line.
Well, Slovenia should be proud of their fine performance in the first match for them. And Yugoslavia will be without Mihailovic for their next match or two. Anyone could qualify from group C.
Italy 2-0 Belgium
June-14, 20:45, Brussels, Group B
Italy played in a very proffesional maner for this match. Belgium didn't really have much of a chance after conceeding the early goal to Totti. They needed to score and it seemed impossible to break down the Italian defense. Toldo played a good game in goal for Italy and didn't seem to be troubled too much. Italy defended until the last minute and poor Belgium just had to conceed the defeat, I would like them to qualify for the Quarter finals. Stefano Fiore's goal for two-nil was wonderful skill - the one-two with Inzaghi and then a powerful but accurate side-footed finish from 20 yards. Fiore is a good player, I can remember buying him on the original SWOS 96/97 for Amiga. He was an integral part of my Watford midfield for a couple of seasons, and was a good buy for just £450k from Serie B team Chievo.
Sweden 0-0 Turkey
June-15, 20:45, Eindhoven, Group B
No goals, ahhh. Well that's a first for EURO 2000. not much to report on for this match. Many players seemed to twist their ankles because of a slippery pitch, that's about it. I think that Sweden deserve to get through (because they helped England qualify), but it is going to go to the last group match now.
Czech Rep. 1-2 France
June-16, 18:00, Bruges, Group D
A very lucky goal for Henry. You have to take your hat off to Henry for geting 13 goals in his last 13 matches, but the back-pass was so, so stupid by Petr Gabriel. The penalty which Nedved won was well deserved, I couldn't tell if it was in the area or not, but they deserve some luck. But then the french became to strong for the Czechs, and Zidane started to show some good skills again. The goal was coming and it was Djorkaeff who put in a good finish after a mix up in the Czech defence. This means France are through without getting out of first gear and Czech republic are probably out of Euro 2000, they were in a tough group though, better luck in the World Cup.
Denmark 0-3 Netherlands
June-16, 20:45, Rotterdam, Group D
Holland and Denmark were quite even for the first half. Gronkjaer looked good on the left side of Attack and almost scored. Then in the second half, Holland started to play football they way we like them to. Bergkamp was excellent and was the one who helped make the break-through for Kluivert to score. Reiziger and Zenden were good as well, and Zenden made an excellent run and a perfect cross for R. De Boer to score. Peter Schmeichal played well and tried to stop these two goals, but he was left with no cover really. The Dutch were class though, and they piled on the pressure, testing Schmeichal several times. And then the final goal from Zenden, some brilliant play and a stunning finish. Denmark and Czech Republic go out, and Netherlands and France battle it out for 1st and 2nd.
Romania 0-1 Portugal
June-17, 18:00, Arnhem, Group A
Hehe, was that the same Portugal that beat England!! They didn't play that well, and Romania had chances just like England did. I think the better side won though, but the draw might have suited England. The goal, late in the 95th minute, was a really great header. A great freekick and a perfect header into the back of the net!
England 1-0 Germany
June-17, 20:45, Charloi, Group A
Whe-hey, Vindaloo! I predicted that England would win 2-0. i was almost right. The German side had a re-shuffled look, and played with a decent system. Hamman looked dangerous, as did Deisler. But this german side is the worst I have seen, and I didn't think they would score somehow. They could have done though, and England were lucky to get away with a few things. The referee was fair when he didn't send Beckham off. England had been played well since Owen's smart header that almost crept in before Kahn made a great save. I though Scholes was playing well, and he was my tip to score first. His left-foot volley after chesting down Beckhams through ball was a bit of class skill.
Then in the second half German started well, but England began to press the game for a change. We looked dangerous from set pieces and that is when we finally made the difference. The goal was a classic Shearer goal - in the right place at the right time to score when it matters. Fortunately everyone missed the cross from Beckham, and Shearer nodded it across the keeper into the corner.
Some interesting management from Keegan eventually paid off, as we kept a clean sheet for a change. Seaman looked quite comfortable in goal, and with Campbell and Keown (playing his best ever England game!) in front of him, the German strikers never looked a threat.
A fantastic win for England, it was really special to win for the first time in 34 years, about time too. This could be a turning point and I think England can beat Romania and then go on to bigger things.
Slovenia 1-2 Spain
June-18, 18:00, Amsterdam, Group C
Slovenia played well at times. But Spain had a very experienced side and they overcame Slovenia in the end with a solid performance. The goal by Raul was stunning and the first half finished a predictable 1-0 to spain. In the second half Slovenia started to break forwards more and drew the scores level. It was difficult to decide who the goal belonged to, I think it was definately Zahovic's. Then a skillful run from Mendieta and a powerful finish from Etxeberria made it 2-1 to spain. Slovenia couldn't really get anything back even though they played well, it was a first win for Spain.
Norway 0-1 Yugoslavia
June-18, 20:45, Liege, Group C
Not a very thrilling game football wise, but quite entertaining. Yugoslavia seemed serious about winning this one, and found themselves one-nil up quite early through Savo Milosovic. It was a good poached goal from the corner as he just evaded his marked to knock the ball in. Yugoslavia have showed that they can play some nice football, but all the diving was a bit too theatrical for me. It did serve them right in the end. The referee was so fed up that he sent poor Mateja Ketzman straight off after a silly tackle. I couldn't believe it, he had only come on as a sub for 1 minute, and the clock was about 89mins.
Turkey 2-0 Belgium
June-19, 20:45, Brussels, Group B
Belgium started very well in this match. Mpenza with a good chance very early, just drove wide. Belgium controlled the ball well and just lunched constant attacks at Turkey, but Turkey managed to defend them. I thought that Belgium looked strong and that they would score first and go on to win the match. I was wrong. Hakan Suker scored from Turkeys first real chance just before half-time. It was a great jump to make the header, but the keeper misjudged where the ball was and couldn't catch it when it bounced for the first time. It was a good goal, but against the run of play.
Then in the second half Belgium continued to throw everything they had at the Turks. You could sense that it was not their night when Rustu made the save of the tournament so far from Mpenza's powerful header. I thought it was in but Rustu palmed it over the bar suberbly. Turkey were starting to look more confident and looked dangerous on the counter-attack as Belgium were commiting players forwards. And then the second Suker goal came. Suat broke the offside trap and ran into the space, he then squared it across the keeper for Suker to side-foot it into the top corner from 8 yards. He had somehow managed to get away from Deflandre who was marking him shortly before. Belgium just tried and tried to score and probably about every player had a go, but it was not to be. So Turkey are through to the next round, and the co-hosts Belgium are sadly out of the tournament after playing so well.
Italy 2-1 Sweden
June-19, 20:45, Eindhoven, Group B
A much changed Italy side to face Sweden in this match. Sweden had fielded a very attaking line-up to try and get a result against the Azzuri. In the first half Sweden dominated most of the play, and had a few good chances. Italy were only going to get something from their famous counter-attacks. When Del Piero won a corner from one of these, Luigi Di Biagio smashed in a nearpost header goalbound from the cross. Then Freddy Ljungberg of Arsenal somehow made the miss of the tournament. He controlled the ball and composed him self really well, but he kicked the air, got another chance, but scooped the ball wide from 4 yards away. Montella who was playing well also came close for Italy.
So the second half started still 1-0 to Italy, but Sweden still dominated most of the play and tried to get that goal. Eventually they scored. Mjallby played the ball through to an onside Henrik Larsson. Larsson ran to the edge of the box, and the keeper had come out quickly making it difficult for him. But then Larsson did a neat piece of skill by side-stepping round the keeper and passing the ball in. Sweden then tried to go in search of the winner, but in-form Allessandro Del Piero ruined their day. He somehow found himself with the ball at his feet and just 2 players and a keeper to beat after a defensive mistake. Then from about 20 yards he set the ball up for his left foot and hit a fantastic shot into the top left corner. All over for Sweden I'm afraid, and Italy finish with maximum points.
England 2-3 Romania
June-20, 20:45, Charloi, Group A
Ah, I'm almost to depressed about it when it comes to reporting this match. What happened was this. Romania dominated the possesion from the beginning and had chances, Ilie forced an excellent save from Nigel Martyn after a well struck freekick. After about 20 mins Chivu scored for Romania with a lucky cross come shot which just crept in off the post. Romania still continued to put England under pressure and I expected them to probably snatch another. But then England had a good spell of play from about 38 mins, and Incey won a penalty. None other than Alan Shearer slotted in the penalty to level the scores. Then quickly after that Paul Scholes flicked through a perfect ball for Owen who rounded the keeper and expertly made it 2-1 to England. I couln't believe it, my prediction was a 2-1 win for England and it looked like it just might happen.
So it was half-time and England had played badly, but had the scorelin to see them through to the quarter finals. Second half, sadly, saw more of the same Romania pressure. England weren't looking too organised at the back, and it was this which led to the equaliser. Somehow the ball wasn't cleared first time when it found it's way into the England box. Keown and Cambell were there to do the duties, but for some reason Wise got hiself back there as well, and this confused things. The uncleared ball fell back to Romania, they played it out to the right, and then crossed it in. Martyn came for the cross and it looked like he should have catched it, but he punched at the ball and it didn't go far. It got as far as Dorinel Munteanu, and he contolled the ball and hit a vicious volley which must have been very accurate (or lucky) to get through Campbell, Keown and the out-stretched 'keeper.
England could still make it through at this time, and we should have held it. But the whole team looked very poor on the night. The Romanians played right through us most of the time, and the England defense were just clearing the ball over the top like Wimbledon. I gave up hope of another England goal when Beckham broke and layed it out to Gary Neville, Neville who had several options, tried to chip the ball forwards to Owen's head, adn Owen is only a little guy, what the **** was Neville playing at. And it was like this from the Neville brothers all night. All right, they have a good work rate and long throws, but they just don't have any skill at all!! Gary is the better of the two as he plays every week for Man U. Phillip Neville works hard, but he is just SHITE! It's as simple as that, and I can't understand why he was in the squad. I mean, he doesn't even play regularly for Man U, and he's not left footed. So why him of all the other left-footed backs in the whole country, premier league and div 1. I wouldn't play Barry there since he doesn't play in that position every week. One suggestion would be Michael Ball of Sunderland, he played for England before, maybe he was injured. But why Phillip ugly-as-**** Neville?
Anyway, back to the match. P. Neville was giving the ball away all night, and with him on the left, and Wise playing defensive we couldn't bring the ball forwards from that side. I guess that must be why Keegan decided to bring Barmby on for Wise. And also he took off Scholes (Big up respect to Scolesy) and brought on Southgate making the formation a 532 with 3 centre backs. I quite liked the look of this, as it meant Beckham could play more central and we could block off more of their attacks. And preserving a 2-2 scoreline would mean England would go through, although at this time I felt that Romania deserved to go because England had played so poorly. We do have some good players, but we just couldn't play as a team and we didn't have enough over-all skill. I wonder if we would have been any use in the next round, probably not I think.
So it was 2 minutes of the match left, and Moldovan ran up the right wing with the bal and tried to get into the box. Phil Neville was marking him, and he just had to stay on his feet and try and block him off to win the corner. There was no real fear that a cut back would lead to a goal because we had 3 CENTRE BACKS in the box to block the ball!!! I was just saying to myself "Don't bring him down, DON'T bring him DOWN!!", especially since he had got into the area. AND THEN... Neville made the STUPIDEST challenge ever. All he had to do was stay on his feet, but for ****s sake, why did he have to make a challenge like that. He claimed he got the ball, but the fact was that he got nowhere near it, and he just kicked Moldovan's shin. Obviously it would be a penalty becasue Moldovan is no fool. Ganea stepped up and cooley scored from the spot. And that, was that for England.
After inital obscenities towards the Romanians, I now wish them all the best for the rest of EURO2000. I am now supporting Portugal, and I hope that the team who wins EURO2000 is one of the teams which beat England.
The really sad thing is that most of my favourite players like Adams, Ince, Keown and Shearer will never playin a major tournament again. This was their last chance. Bad performances and Phillip Neville ruined it for all of them and all the England fans including me.
Portugal 3-0 Germany
June-20, 20:45, Rotterdam, Group A
A result that anyone might have predicted. The Germans did not look very strong in this match. By half-time Portugal were1-0 up thanks to header from Concienco.
Second half, Concienco stole the show by getting two more goals to complete his hat-trick. Oliver Kahn was beated all to easily for his second goal, and his third was a low drive into the bottom left corner after a fine run.
Slovenia 0-0 Norway
June-21, 18:00, Arnhem, Group C
Not a very entertaining match. Both teams created chances to score via each team's varying style of football. But no-one managed to find the net. Norway had the four points in the bag and the fans were adament that they had reached the quarter finals ahead of Spain. Slovenia, the suprise package of Euro2000, had played well. They should now be feared in European football because they have a team which is hard to beat and can score good goals.
Yugoslavia 3-4 Spain
June-21, 18:00, Bruges, Group C
An absouloutly amazing finale to this incredible match of football. It really shows what the game is about. A seven goal thriller between these powerful football nations. Spain had to have 3 points to go through, and draw wouldn't be enough if Norway got a point. And If Norway won and Yugoslavia lost, then Yugoslavia would not qualify, and Slovenia could have qualified with a win too. This group as definately the tightest.
On to the match. Spain played slightly better in the first half and had a penalty turned down, but Yugoslavia showed they could play a bit too and they scored with a Milosevic header. Then before halftime Alfonso scored for spain with a neat finish inside the box.
In the second half Yugoslavia had to bring on a substitute. And it was the substitute Dejan Govedarica who scored a great goal soon after coming on. Drulovic made one of his great runs and set the ball up for Govedarica who side-footed the ball first-time over the stranded Canizares from 18 yards.
Then almost straight afterwards Spain's subsitute Munitis levelled the scores with a sublime shot. The ball was cut back to him from the right, and from the edge of the box he curled the ball into the top left corner with his left foot, it was some finish.
Then Jokanovic was sent off for a second booking and Yugoslavia were down to ten players again. They can usually play better with ten though. The referee gave a stupid indirect free-kick to Yugoslavia for what was obviously an unintentional back-pass from Mendieta. I have to say the referee was not doing well this match, he gave many stupid decisions and at times seemed to be biased to one team or the other. There were many freekicks in this match, and this was one that Yugoslavia would indirectly score from. The freekick was chipped to the far post, after a bit of confusion Milosovic headed the ball across the goal and Komjlenovic poked the ball in by the post.
So at this point there were about 7 minutes left of normal time and Spain were looking as if they had messed up once again (remember the world cup). It got to 90 minutes and they were still 3-2 down, it was also confirmed that Norway drew, so Norway would go through instead of Spain. They tried everything to score, Alfonso and Munitis had shots blocked, and Guardiola was unlucky with a chip. Every time Yugoslavia cleared the ball and you wondered if the referee was going to blow his whistle, it was 2 minutes into the 5 minutes injury time. Then Spain had a chance, Abelardo was dragged to the floor in the penalty box and the referee gave it. When spain need a cool player, they rely on Mendieta and it was he who cooley placed the penalty the opposite way to which the keeper dived.
So, 3-3 and less than 3 minutes of injury time left. I couldn't quite believe what I was seeing, Spain made more attacks, and soon they had the ball again on the right wing. Guardiola chipped the ball directly into the box and Urzaiz headed down. And Alfonso was there to volley the ball downwards into the bottom left corner. GOOOOAAAAAAALLLL!! It was a great finish, the volley was perfect and zipped into the goal without touching a player. Yugoslavia still had to wait for confirmation of the Norway result to tell if they would make it through, but they found out the score in the end and both teams celebrated.
Praise to both teams, this was one of the greatest games I have ever seen. And it would be scary if Spain had the same amount of luck for the rest of the tournament :) They'll need some against France!
Denmark 0-2 Czech Rep.
June-21, 20:45, Liege, Group D
Czech Republic (the unluckiest team in the tournament) finally had Patrick Berger back from suspension to face Denmark. My opinion is that all player's suspensions should be cancelled at the start of a major tournament like Euro2000. It doesn't seem fair for teams to have their star players missing from the line-up when so much is at stake.
Anyway, it was quite a good match. It was played very openly as neither team had anything to lose. Gronkjaer looked the most dangerous player for Denmark and Nedved contined to play very well for the Czechs. The first half ended a suprising 0-0.
Come the second half the Czechs attacked more and Denmark started to look a little tired. Peter Schmiecal was tested on several occasions by the Czech strikers. And finally Smicer scored. Soon afterwards he got another goal which just about settled the match.
France 2-3 Netherlands
June-21, 20:45, Amsterdam, Group D
A festival of football in this match. The two best teams of the tournament meeting for their last group matches, both had already qualified. France had put out a team with many reserve squad members, but they were still a strong team, as were Holland. But Henry didn't manage to score for once. Duggary put France in the lead with a fine header, then soon after Kluivert scored at the other end with an excellently controlled finish into the bottom corner. Then France took the lead again, as Trezeguet touched in a Wiltord drive after Davids had played the frenchman onside. Next came one of the goals of the tournament, the first goal from a freekcik and it was some strike. Frank De Boer hit the freekick early as Lama was tring to organise his wall, the ball couldn't have been struck sweeter, it swerved in mid air and gave the keeper no chance as it crashed into the top corner. The shot was measured at 85mph.
The dutch won it in the second half with yet another goal from Zenden. This means Holland will stay in the Netherlands for the quarter-finals and France will meet Spain.
| | | | | | | | | | |
| --- | --- | --- | --- | --- | --- | --- | --- | --- | --- |
| | GROUP A | PL | W | D | L | F | A | GD | PTS |
| 1 | PORTUGAL | 3 | 3 | 0 | 0 | 7 | 2 | 5 | 9 |
| 2 | ROMANIA | 3 | 1 | 1 | 1 | 4 | 4 | 0 | 4 |
| 3 | ENGLAND | 3 | 1 | 0 | 2 | 5 | 6 | -1 | 3 |
| 4 | GERMANY | 3 | 0 | 1 | 2 | 1 | 5 | -4 | 1 |
| | | | | | | | | | |
| --- | --- | --- | --- | --- | --- | --- | --- | --- | --- |
| | GROUP B | PL | W | D | L | F | A | GD | PTS |
| 1 | ITALY | 3 | 3 | 0 | 0 | 6 | 2 | 4 | 9 |
| 2 | TURKEY | 3 | 1 | 1 | 1 | 3 | 2 | 1 | 4 |
| 3 | BELGIUM | 3 | 1 | 0 | 2 | 2 | 5 | -3 | 3 |
| 4 | SWEDEN | 3 | 0 | 1 | 2 | 2 | 4 | -2 | 1 |
| | | | | | | | | | |
| --- | --- | --- | --- | --- | --- | --- | --- | --- | --- |
| | GROUP C | PL | W | D | L | F | A | GD | PTS |
| 1 | SPAIN | 3 | 2 | 0 | 1 | 6 | 5 | 1 | 6 |
| 2 | YUGOSLAVIA | 3 | 1 | 1 | 1 | 7 | 7 | 0 | 4 |
| 3 | NORWAY | 3 | 1 | 1 | 1 | 1 | 1 | 0 | 4 |
| 4 | SLOVENIA | 3 | 0 | 2 | 1 | 4 | 5 | -1 | 2 |
| | | | | | | | | | |
| --- | --- | --- | --- | --- | --- | --- | --- | --- | --- |
| | GROUP B | PL | W | D | L | F | A | GD | PTS |
| 1 | NETHERLANDS | 3 | 3 | 0 | 0 | 7 | 2 | 5 | 9 |
| 2 | FRANCE | 3 | 2 | 0 | 1 | 7 | 4 | 3 | 6 |
| 3 | CZECH REP. | 3 | 1 | 0 | 2 | 3 | 3 | 0 | 3 |
| 4 | DENMARK | 3 | 0 | 0 | 3 | 0 | 8 | -8 | 0 |
Quarter-Finals
Portugal 2-0 Turkey
June-24, 18:00, Amsterdam
A match under a closed roof provided a very hot atmostphere. And the referee sent off a Turkish defender for raising an arm half-way through the first-half. Replays showed that Costa had been kicked by his team mate and this fooled the ref into making a decision.
Turkey conceed the first goal to a Nuno Gomes header from Figo's deflected cross. There was only going to be one winner I think. Turkey didn't look like they would win and Figo started to run the show. He showed some great skills and had a great shot go just wide.
Portugal scored again in the second half as well. Figo dazzled round the Turkish defence and placed the ball across the face for Gomes to pass in maknig it 2-0.
Romania 0-2 Italy
June-24, 20:45, Brussel
A solid match for the Italians, they didn't give much away at all. The closest chance Romania ever had was a lob by Hagi after a superb long-ball. Italy scored their first goal through Totti when he finished cooly. Then Inzaghi scored his first goal of the championship, latching onto a through ball for a standard finish. Romania couldn't to much in the second half. The only thing of note was the sending off og Gheorghe Hagi for a second yellow. Sad to see a great player go like that, but he did brutally stamp on Conte's ankle and sent the Italian captain off on a stretcher with torn ligaments. The same injury I had this season.
Netherlands 6-1 Yugoslavia
June-25, 18:00, Rotterdam
This was a great match to watch. The Dutch really turned on the skill and dominated most of the match with fantastic football. Kluivert scored his first from a great Bergkamp pass. Then he got his second from a great Davids pass.
In the second half Kluivert looked like he had scored again with a sharp finish. But after the match the goal was counted as an OG by Govedarica.
Then after some niftey control and a pass from Zenden Kluivert scored again. At the time it looked like Kluivert had 4 goals (a new record) but really it was just a hat-trick. Overmars scored with a terrific volley from 20 yards to make it 5-0. And then in the closing minutes Overmars scored again making the score an amazing 6-0. In the very last minute though, Milosovic scored a constolation after a great chip effort from Mijatovic hit the bar.
Spain 1-2 France
June-25, 20:45, Bruges
A tense match. Spain looked dangerous at times, but France showed many glimpses of their quality. Zidane played very well and showed great skill all through the match.
First goal was from Zidane. Something special was on the cards and he hit a quite sublime freekick into the top corner leaving Canizares no chance. But soon after, Spain levelled thanks to Mendieta's penalty kick. The scoring was completed in the first half as Djorkaeff scored what was to be the winner. It was a powerful first time shot from a tight angle and screamed in close to the post and near the top corner.
In the second half Spain tried desperately to get more opportunities to score, but they just coulnd't make them work. And it was summed up when Raul missed their last real chance from the penalty spot.
Semi-Finals
France 2-1 Portugal
(Golden Goal 90mins 1-1)
June-28, 18:00, Brussels
Italy 0-0 Netherlands
(0-0 AET Italy win 3-1 on pens)
June-29, 20:45, Amsterdam
France 2-1 Italy
(Golden Goal 90mins 1-1)
Jul-02, 20:00, Rotterdam
EURO2000 Champions
FRANCE
| | | |
| --- | --- | --- |
| 1= | Patrick Kluivert (Netherlands) | 5 |
| 1= | Savo Milosovic (Yugoslavia) | 5 |
| 2 | Nuno Gomes (Portugal) | 4 |
| 3= | Sťrgio ConceiÁšo (Portugal) | 3 |
| 3= | Thierry Henry (France) | 3 |
| 3= | Zlatko Zahovic (Slovenia) | 3 |
| 4= | Vladimir Smicer (Czech Rep.) | 2 |
| 4= | Alfonso (Spain) | 2 |
| 4= | Frank De Boer (Netherlands) | 2 |
| 4= | Youri Djorkaeff (France) | 2 |
| 4= | Hakan Suker (Turkey) | 2 |
| 4= | Filippo Inzaghi (Italy) | 2 |
| 4= | Gaizka Mendieta (Spain) | 2 |
| 4= | Marc Overmars (Netherlands) | 2 |
| 4= | Alan Shearer (England) | 2 |
| 4= | Francesco Totti (Italy) | 2 |
| 4= | Boudewijn Zenden (Netherlands) | 2 |
| 4= | Zinedine Zidane (France) | 2 |