Contents:
My History | The History of Sensible Soccer
By Paul Turner - sometime in the year 2000
I am 17 now and have been playing Sensible Soccer since it first came out over eight years ago. Let me take you back:
Back to Christmas 1991 and 8 year old Paul Turner is exited about the big box in the corner wrapped up in Christmas wrapping paper paper. He is full up after a nice dinner and is waiting desperately for the Queen's speech to end so he can open it, and then go upstairs with it to play Lotus Turbo Challenge and Golden Axe.

I had wanted an Amiga for ages after playing on my friends one. At the time it was the very best computer around, with the best graphics the best sound and the best games, I am deeply proud to have owned one I am very sorry to see them go, but still keep my top of the range 1200 to play SWOS on occasionally.
Any way I must continue with my Sensible story. After my Birthday in March '92 I wanted to spend some of my money by purchasing a football game so I bought Sensible Soccer 91/92 which looked amazing at the time.
In the first year I played on it I used to get frustrated when my brother wouldn't give me a game and even more frustrated when I kept on losing to the computer because of a crap goalie mistake. So I spent the most time on the original Sensi making up my own teams and whistling along to the menu music.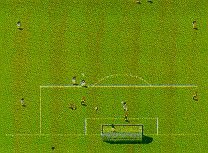 I never bought the Euro-Championships edition, but I brought the 92/93 update soon after it was released and the new features like pass-backs and better keepers inspired me on a quest to play the game, thrash the computer etc. I used to practice with two joysticks and play as both teams so I could score lots of goals. Then some months later I was finally satisfied that I had found my level when I scored with the keeper.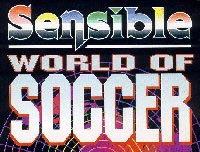 After some time I got fed up with just European teams and I craved for more, this was about November 1994 and I was delighted when I heard about SWOS in a Magazine. I was given Sensible World of Soccer 94/95 for Christmas and at first I didn't jump at the idea of management as I had been put off by crap games, all I used SWOS for was editing teams and making up my own super cups. About a year after that I stopped playing and only played a couple of times a month, I was concentrating on real football at the time.

Still, in November '96 I brought the update for SWOS 96/97 and that's when my playing took off, the curling passes and looping headers gave me a new feel for the game. I started to master the controls and become undefeatable (almost) against CPU opposition. Then a bloody bad fact dawned on me, no-one would play SWOS against/with me, not my brother not my friends, not my dad. My friends all liked FIFA on the Megadrive, all they said was "but the graphics are crap and I can't control the little people, lets play FIFA. I have to admit that you do need a decent amount of hand, eye, foot, mouth, co-ordination to be a bit good at Sensi but once you get the hang of it you can do anything. Also my school was linked to the internet and I was reading through all the SWOS sites and learning that with SWOS on the PC you can exchange goals with people around the world, enter into competitions etc. There I was on my lonesome stuck with just an Amiga and no Sensi playing mates at all.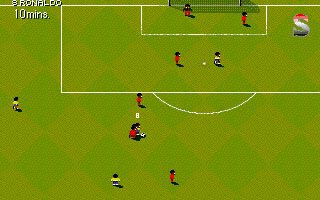 Finally in February 1998 after two years of "Oh we'll get it in a couple of months, BLAH, BLAH, BLAH." my dad bought a family PC (yeah right, I'm the only one who plays on it). It did take me a while to find the latest version of SWOS but in April I got it.
At last! I could score some brilliant goals and someone would take notice of me, I can see that having my SWOS web page is a good way to share my appreciation for Sensi.
That just about brings us up to date. My views on the latest Sensible Soccer 98 European Club edition are that it is a fantastic game, better than FIFA and all other new footie games, I just can't play it properly 'cos my PC is a heap of shite. For me it still doesn't compare with original sensi soccer or the ultimate footie game SWOS 96/97.
---
Sensible Soccer (91/92 season)
The first Sensi was released back in 1992. It was a revoloution in football games with the original and inspired control method, plus the fact it had loads of teams with accurate player names and realistic competitions. This game didn't have any teams outside of Europe, but it had a good selection of club and international teams, you could also edit you own teams. This game was just brilliant, great, genius, excellent, fun, supeerrrbb!!
Format: Amiga, Atari ST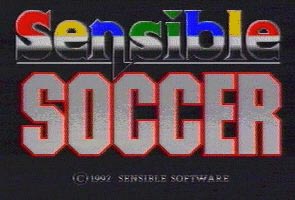 Sensible Soccer v1.1 (92/93 season) 'European Champions'
New teams and gameplay improvements like better goalies, passback rule, bookings and better tactics. All these subtle changes now made the game much better than any footie game so far. The sound on this game I liked and all the new tournaments were great like being able to do World Cup qualifiers, I still play it now.
Format: Amiga, Atari ST, Mega Drive, Snes, GB
Sensible Soccer International Edition (93/94)
Now they tweaked the gameplay slightly and added new international teams for the World Cup. The referee now ran onto the pitch for bookings.
Format: Amiga, PC, Megadrive, SNES, Gamegear
Sensible World of Soccer (94/95)
A new revoloution, all the teams in the world, better gameplay, new sounds, new graphics, career mode, DIY tournaments etc. Wicked.
Format: Amiga
Sensible World of Soccer 95/96 - PC
A 95/96 conversion of SWOS for the PC with commentary - this game is now free to download from the internet but with no commentary.
Format: PC (SWOS v1.0)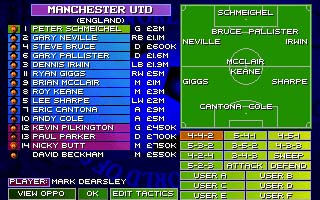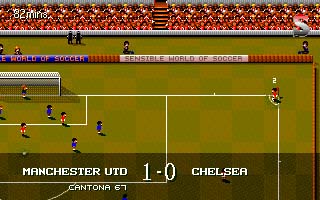 Sensible World of Soccer 95/96 ECE (European Championship Edition/Euro '96)
New tweaks to the gameplay like looping headers and bendy passes, and more new teams from all around the world. This was the best SWOS yet, it also had new features such as trial players and international management. New graphics like player celebrations and moving crowd added. Again the PC version had match commentary, new animation scenes and a funny intro video.
Format: Amiga, PC (SWOS ECE v1.0) order this from www.softwarezone.co.uk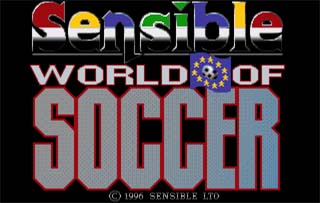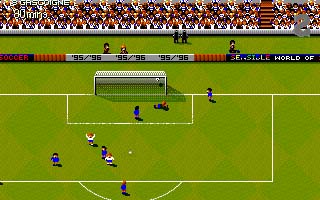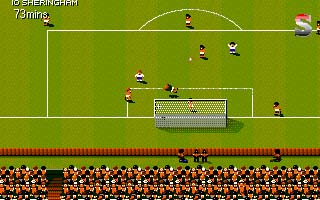 Sensible World of Soccer 96/97
Basically an update for SWOS ECE. New teams for 96/97 plus slight tweaks in career mode. This is the best SWOS there is!!
Format: Amiga, PC (SWOS v2.0)
Sensible Soccer 98
A Sensi with new 3D graphics, was rushed out by the stupid publishers. This game had a new style of gameplay, but was only about 70% finished so it didn't really work very well and wasn't too popular with many. It had a completely different layout and only had the teams of World Cup 98 and other international teams, player names were all fake.
Format: PC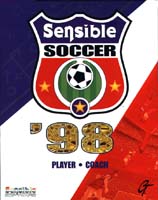 Sensible Soccer 98 European Club Edition
Released the same year as Sensi 98. This was a bit of a flop as well but it was much better than the previous game. Gameplay was better, the sprint/tackle button which was added before was now easier to use. Many more teams were added from around Europe including club teams and accurate club competitions. Player names were still fake, and there was no management option. The tactics options were still not as good as the innovative SWOS tactics. It was fun to play but hasn't got the same lastabilty as SWOS, and the graphics were jerky and shite - unlike SWOS which is smooth and...
Format: PC, PSX
Sensible Soccer 2006 - NEW GAME!! - Due for release Easter 2006
Yessssssssssssssss!!!! there will be a new Sensible Soccer. Finally, Codemasters decided to make the game. Thankfully Jon Hare will be involved in the design of the game and all that jazz. I'm not expecting miracles, but I would like to see a fun, refreshing, easy to control, completely mental, addictive and original game. Sensible Soccer should be like going down the park with your mates for a kick about. Whatever is released, i'm sure it will Kick FIFA's ass big time! So what can you expect in the new game? Go to Codemasters website for information
Format: PC, Xbox, PS2, Amiga (only joking about Amiga)