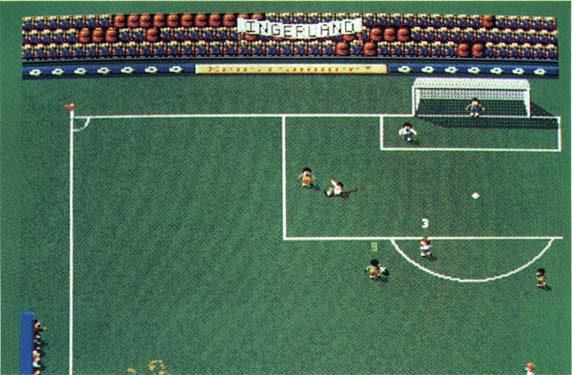 A SENSIBLE ALTERNATIVE
ALTHOUGH THEY'VE JUST COMPLETED Mega-lo-
Mania and are still up to their ears in putting the finishing touches to WizKid, the irrepressible chaps at Sensible Software are already planning their next effort - would you believe, a football game to challenge Kick Off 2?
Currently without a title, the game will feature the same top-down view as Anco's classic, but there will also be a number of changes: for example, the players will be able to see the sideline and goal simultaneously, your on-screen players' moves will be determinable in advance of them recieving the ball and there will be tons of animation including movement from the crowd and the bench.
The Picture above shows an early version of the game, featuring the match between Cameroon and England in last year's World Cup (a game which cost the Sensible boys big money, as they had a huge bet on Cameroon to win the contest).
Watch out for further news over the next few months.
From One Amiga Issue 36 -September 91