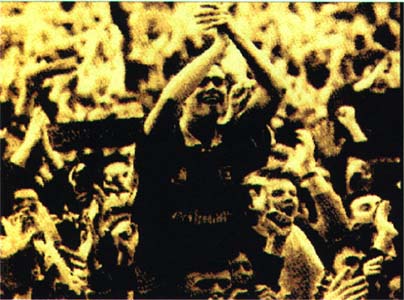 THE BEST JUST GOT BETTER!
It certainly did. Since we first announced that Renegade would be releasing a new and improved version of Sensible Soccer, our phone hasn't stopped ringing - well, it did after we took it off the hook. Suffice to say interest in the new V1.1 has been HUGE, which is why we're pleased to finally bring you proper details of the thing now that the game has at last arrived in the office. Of course, thanks to our utter brilliance, you'll actually be able to get a playable demonstration of some the new version's features thanks to our supremely excellent coverdisk this month. But the full version is a lot more impressive than even our demo can let on! We've decided not to give the product a full review because it's a bit of an odd one, but we had to find an excuse to give it a thorough playtest somehow, so we thought we'd bung it in the news and offer our opinion on all the new features...
NEW GOALKEEPERS
These actually do make all the diffference, we feel. In the original version the keepers were pretty inept, letting in some very easy shots and taking ages to recover from diving saves, thus leaving the goal exposed. Some radical recoding now has the keepers not only recovering more quickly, but also catching the ball properly, jumping to pluck it out of the air, punching it away and, when it's just too hard to catch, tipping it either over the bar or away to the side, rather than straight back out into the penalty area where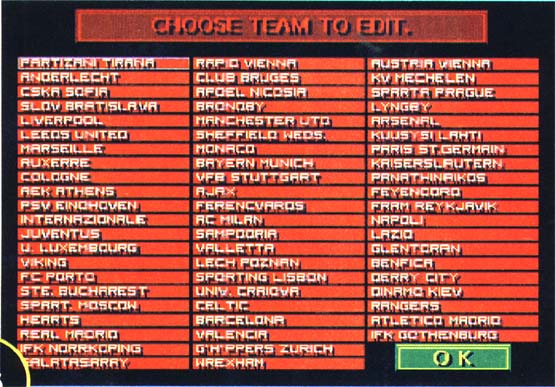 another striker can have a shot. However, they've developed some new faults too - they seem strangely susceptible to straight shots aimed near the posts. But at the end of the day, they're a massive improvement and make for a much more entertaining game.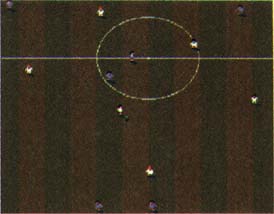 RED AND YELLOW CARDS
These are fun - although in our demo it's difficult to see the full effect of them because you're only allowed to score one goal before the game ends. The strictness of the referee differs from game to game, but all the refs will severely punish obvi-ously cynical professional fouls. Chopping down a player from behind as he races towards the goal for a shot, for example, would earn an immediate red card. It certainly put a stop to some of The One's hatchet-men players, who in the average five-minute game, soon found themselves reduced to eight men and completely unable to defend their own goal! This new addition is a good leveller, and certainly encourages you to think twice before going in studs first.
THE BACKPASS RULE
You generally tend not to see this in action too often, because you don't pass back to the keeper as often as you do in real football. But it does happen occasionally, and it's fun sometimes to control the keeper, running him right down the field with the ball - although there are obvious risks attached. You need to keep your wits about you, however, as accidental passes back to the keeper will switch player control to the goalie, and you can run the ball into your own net by mistake.
NEW SEASON'S TEAMS
Well, this is just one for the enthusiasts, really. Tottenham and Arsenal, amongst others, have been removed to make way for the new teams, like Lazio and Grasshoppers Zurich. In the national league, the CIS has been replaced by independent teams from Russia and the baltic states - Slovenia, Latvia, Estonia, Croatia and the Ukraine. All new transfers have been taken into account (there's no Gary Lineker in the England squad, and Des Walker now plays for Sampdoria for example), and there's a new batch of comedy custom teams, including Chinese Food, In a Pencil Case, a Gamesmaster team and the 1966 World Cup Final squads from England and Germany.
WORLD CUP QUALIFYING GROUPS
A new addition to the Sensible Cup, League of Nations and other tour-naments, you can now play through any of the six groups in the current World Cup qualifiers. Will England make it through to Florida in 1994? Here's your chance to find out.
CLASSIER COMPUTER OPPONENTS
Well, so they say - we can't say we noticed much difference in the qual-ity of game the computer gives you, but then we only ever play it in two--player mode, so what do we know?
THE VERDICT
A big thumbs-up from us here at The One - you only have to look at how often the games room is packed full of the magazine staff to see how popular the new version is. If you've got the original version of Sensible Soccer and are a fan, you really must upgrade. If you haven't got Sensi - well, there really ISN'T any excuse anymore. You'll be pleased to hear that the new version will be in the shops by the time you read this, and that Renegade are now upgrading disks for existing users - call them on (071) 481 9214 for more details.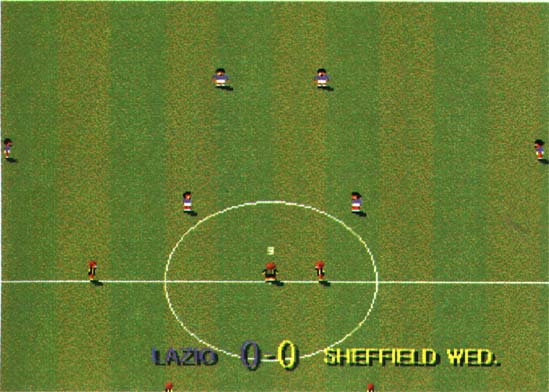 From The One Amiga - December 1992