SENSIBLE SOCCER V1.1
Veteran football hooligan, Steve Merret, slides his tackle towards Sensible Software's update of what is commonly-regarded as THE football game.

NEW TESTAMENT
It's a testament to Sensible Soccer's supreme playability that it was the only game capable of knocking Anco's Kick Off II from its position as the ultimate footy sim. However, as is always the case, the best could have been better, and whilst Sensible Soccer outflanked Anco's aging star in terms of playability, realism, and graphical finesse, its goalies were veritable Helen Kellers and it completely ignored fouls, red cards, and bookings. Time restrictions could have been blamed as Renegade were keen to get Sensible out in time for the European Championships, but even without these features, the Sensi boys did good.
So what's new? Well, all the aforementioned features have been added and the whole game tweaked and... er... oh yeah, for some reason Leeds Utd have been added (presumably the game didn't sell up there or something). Thus, after slamming the disk in the drive I prepared for what again should have been the ultimate footy experience. I'm not sure what I was expecting, but the minor modifications the Sensible lads have added have breathed new life into what was already a legend in its own lifetime. Although the presentation screens boasts new teams in the custom league (including one called Look, Mr Taylor!'), it isn't until a dirty tackle is attempted or a shot fumbled towards the 'keeper that things start happening. Whilst the Ref doesn't actually appear on-screen as he did in the Anco classic, his omnipotent powers become apparent as he dishes out tiny yellow and red cards to offenders — and if a player receives the latter, he duly leaves the field with his head bowed!

GOAL FINGER...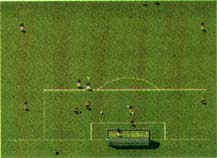 In addition, if the goalies of the original were akin to those in the Vauxhall Conference League, V1 .1's 'keepers are a real step up - to the second division at least. My only real gripe with the first Sensi Soccer was that many a match was lost due to the goalie farting about doing nothing in particular whilst a long and slow ball drifted into the back of the net. Now, however, not only do they
use a little more savvy, but they can also nudge the ball from the goal if they can't hold on to it — and they even get up in time for a second chance as your opponents rush in for another crack! Although they still make the odd mistake and often let really dumb goals in, the addition of these enhanced 'keepers is the real saving grace of this updated version, and ensures that the games are real end-to-end affairs which keep the players on their toes.
I really cannot praise this update highly enough. Simply by conceding that the original wasn't perfect and actually doing something about it both Renegade and Sensible have scored well on my 'caring people' scale. However, whereas past enhanced versions of games (Arkanoid, Xenon, et al) have been minor remixes of old favourites, the additions made here are genuinely to the game's benefit. If you are one of the few sad individuals who didn't buy Sensible Soccer first time round, then do so now - they don't come any better than this. And I have a feeling that Renegade are going to be swamped with upgraders, too.
WHERE DO WE GO FROM HERE
The enhancements made to Sensible leave us wondering where they could go from here. When Anco released Kick Off II, Refs, free kicks, and aftertouch had been added, but between the original Sensi and V1.1 these ideas have already been covered. The seqel could feature players who cry when they get sent off before launching on a short-lived pop career, but as far as on-field action goes Sensible have it covered
buyers guide
RENEGADE £25.99 (£3.95 upgrade)

release date: Out now
genre: Footy Sim
team: Sensible Software
controls: Joystick
number of disks: 2
number of players: 2
hard disk installable: No
memory: Any Machine

'The best just got better - buy it now...'
GRAPHICS 88%
SOUND 83%
LASTABILITY 95%
PLAYABILITY 94%

OVERALL 94%
From CU Amiga December 1992