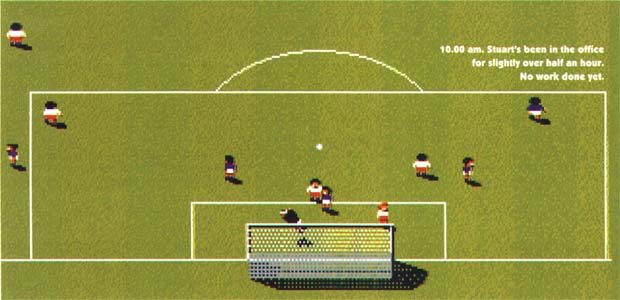 The best just got better. Now we'll never get any work from Stuart.
SENSIBLE SOCCER
92/93 SEASON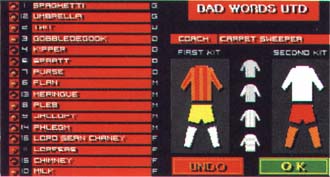 10.30 am. Custom teams cause much amusement
Morning, Stuart. IT'S THERE! WHAT A GOAL! Oh is that the new Sensible Soccer?
FANTASTIC! DID YOU SEE THAT ONE?
What one?
IT WAS AMAZING! I'LL SHOW YOU THE REPLAY!
No, no, it doesn't matter. And could you stop shouting please
WHAT, YOU'RE KIDDING! A YELLOW CARD FOR THAT?
Mark, could you make Stuart be quiet?
I NEVER TOUCHED HIM! OH NO, WATCH OUT FOR THE FREE KICK - GAAH!
Oh look, Estonia just equalised. That's so very interesting,
SHUT UP! THERE ARE NO EASY GAMES IN WORLD FOOTBALL!
(Bring bring) Stuart, I think that's your phone.
OH, WHAT A VOLLEY! TWO-ONE! UP YOURS ESTONIA!
(Bring bring) Stuart, I said I think that's - oh, never mind.
LET'S SEE THAT ONE MORE TIME! OH YES! YES!
(Bring, bring) Hello, AMIGA POWER. No I'm afraid he's not here at the moment. Can I take a -
HE'S CLEAN THROUGH AGAIN AND HE'S - NO! WHAT A SAVE! CORNER!
No, no, that's just, er, the radio. Hang on a minute, I'll turn it down. (Clout)
HE FLOATS ONE IN, A DIVING HEADER - GOOAALLL!
Yes, I'll get him to call you as soon as he calms dow- er, comes in. Bye.
AND THE SCOTS HAVE REALLY GOT THE PSEUDO RUSSIAN LOSERS ON THE RACK NOW! DOWN THE WING, A CROSS, A GOAL!
So, you'll be giving this a pretty good review then? Lot's of stuff about the new goalkeepers and how they can turn the ball around the post for corners and stuff, and how the new passback rule has been implemented, and how the computer teams' skill levels have been tweaked upwards for a tougher challenge, and how there are now new custom teams, and how the game's got lots of up-to-date options like the chance to play the World Cup Qualifying groups and how the red and yellow cards that quite a few people complained about the lack of in the orignal game have been implemented this time around (complete with extra crowd samples), and how it's just generally a more fabulous all-round recreation of the true feel of football, right down to the unpredictable way that you can thump Italy away in one match, only to get a 6-2 home drubbing from Portugal or lose to a breakaway goal from Malta in the very next one, and all that kind of thing. In fact, I shouldn't be at all surprised if you were to tentatively suggest that with all these improvements this might, in fact, just possibly be the best Amiga game of all time, as our readers voted it in the last month's Readers' All-Time Top 100. After all, you do seem to be having a good time over there.
NO WAY! YOU CAN'T SEND HIM OFF FOR THAT! NOW THERE'S A HOLE IN THE WALL, AND - ARGH! FOUR-TWO! HOW COME THE GOALKEEPERS NEVER EVER SAVE FREE-KICKS?
Oh God, I'm getting a headache now.
COME ON REF, SURELY THAT'S A PENALTY? YES! IT MUST BE FIVE! IT IS!
I think it might be an idea if the rest of us took an early lunch, Mark.
AND IT'S ALL OVER! WHAT A WIN! LOOK AT THESE HIGHLIGHTS!
I think you could be right, Tim.
- STUART CAMPBELL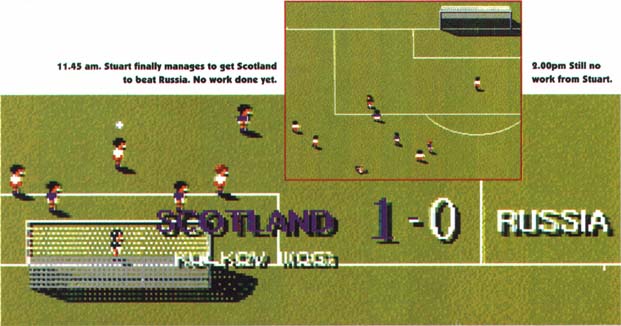 UPPERS Touger, slicker, more reaistic, in pretty much every way better than the 93% rated original. Is there any more to be said?

DOWNERS The keepers do seem to have a bit of a weak spot, where free kicks are concerned, and it'd be nice if you got some kind of World Cup if you qualified. And where have Aberdeen gone?
THE BOTTOM LINE
You lot think this (even in it's

previous, inferior incarnation) is the best Amiga game ever. I'm inclined to agree with you.
From AMIGA POWER SPECIAL JANUARY 1993