SWOS TACTICS
On this page you get the chance to download deadly tactics and use them to perfection with your favorite team against your most hated team (Man U). Also for you to send me your own so that you can share them here at my tactics page. I think this option is great on SWOS . If your not good at scoring (idea of the game) you can muck around making tactics witch will create opputunites and goals. Another good thing is that you can send tactics by e-mail and explore tactics from around the world. The tactics are made using the ingenius SWOS tactics editor which allows you to make and save all your tactics. To install, just extract to your SWOS folder, and access them from the game.
Note: These tactics all work for the Amiga as well as PC SWOS.
BEWARE.tac by ???? - download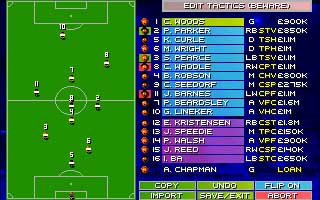 This tactic is more useful for a career where you are using "view result" for many games. It is most likely to produce good results if you have a good team. You should collect a good number of trophies over the seasons and get the chance for international management.
CUTTER.tac by Peter Eyres - download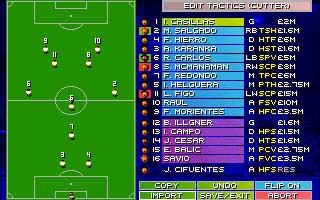 This tactic is quite deadly with Real Madrid. It enables Figo and Macmanaman to be in good defensife and attacking positions at all times. They give good support to Raul and Morienties. Other star offensive players push forward to allow a goal feast while the other penalty box is safely covered.
BOXIT.tac by Paul Turner - download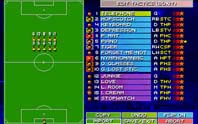 A very silly tactic, enough said!!
HARTLE.tac by Paul Turner - download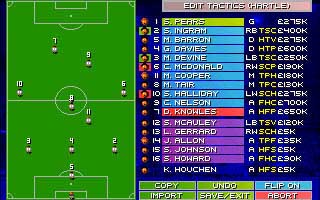 A useful tactic for beating higher class teams with a poor team. The defenders are a bit more deep than 442 and they can cover the runs of quick strikers. The midfield is tighter to close spaces. The two strikers are never far from each other so that you can pass the ball into their feet to score nifty goals.
MW.tac by Paul Turner - download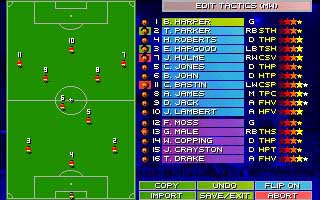 A formation designed for 3 strikers and 2 attacking wingers. Or even 5 strikers. It works like the old-fashioned 325 tactic, or "MW", you see - I have been reading my football history. This tactic was used to the best effect by The Arsenal, under management of Herbert Chapman in the late 20's and 30's. Arsenal dominated English football with the devestating play of their 5 attackers.
OLDIE.tac by Paul Turner - download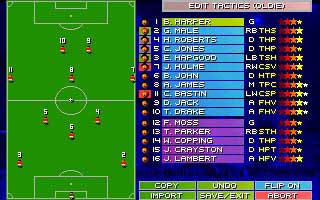 A variation of the MW tactic. Has two main strikers and one player behind them who drops off and helps the midfield. Again, very attacking wingers should be used for the best effect.
PAUL4312.tac by Paul Turner - download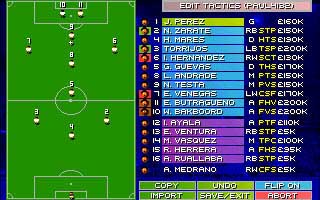 This is a great attacking and defensive tactic. Some great football can be played using this tactic for any match. It is more of a 3412 or 31312 formation, the strikers and the player in the hole will be able to score loads of goals. Sometimes gaps do seem to appear in the defence, but with some skill you can easily keep posession against all the best teams. Try running a series of pass straight through the middle, if the ball reaches your striker in the box you have a chance.
SAUPAULO.tac by Paul Turner - download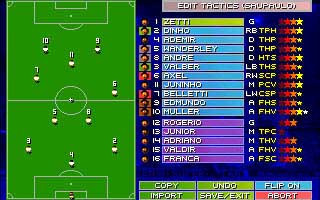 A very exciting tactic which I developed whilst managing Sao Paulo in Brazil. The tactic is great for passing the ball around and very versatile for all the players. The defence is based around the centre-back (should have good passing) with the fullbacks playing of him on either side. Two defenders or midfielders are paired up infront of the defence, they defend and also push forward for attacks. Wingers are attacking and can score plenty of goals, but they also track back to help bring the ball out of defence. Two main strikers play up frond in tandem, but the midfielder/striker just behind them should score plenty too. I'm sure you will enjoy playing with this tactic, especially useful in Brazil - i haven't tried it anywhere else yet!
J000.tac by Jukka Hakala - download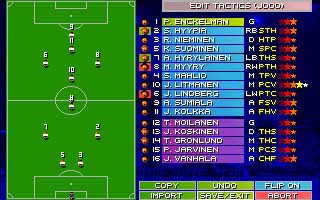 Using 4-4-2 as a base, this tactic allows your full backs and wingers support your two main strikers and the attacking midfielder very well. The players are mainly put into the middle, just to fit my style of playing with long straight passes from defenders to the midfielder or even straight to the strikers. That's why there are a bit too open areas sometimes in the sides of the field, but generally I have found this one very good when you need to score lots of goals. And a good one when just watching the results in the careermode too.
ITALY.tac by Jukka Hakala - download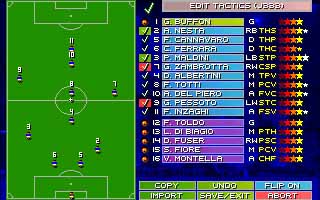 Copied from Dino Zoff, who used this one for the Italy's national team in the Euro 2000, this is a 4-4-2 -> 3-4-3 tactic. The left back (Maldini) and the midfielder (Totti) have free roles. When defending the LB plays as a fourth defender and the MF comes down to help the defence a bit more. When attacking there are only three defenders when the LB takes his place from the middlefield and the MF goes up to help the strikers. Rest of the players are playing with quite normal positions. A nice one if your main aim isn't winning 10-0, but to have a nice game with a friend using a bit more tactical form of football in swos.
442.tac by Paramesh Kumara - download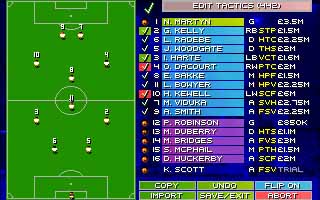 While i woz messing about with the swos tactics somehow this exactly the same tactic as 442 came up. The odd thing is all the players like it better than the original 442, the player values go sky high. Mark Viduka got to 9mill in 2 seasons it's wicked!
CROSSING.tac by Joseph Yong - download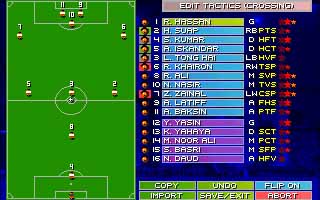 Well, here's a crossing tactic. There are 3 strikers in the penalty area, two wingers, one very far upfield and one wing back.